From the Huffington Post: what amazing people!!
It is estimated that some half a million Brits are turning to food banks to feed their families. But all the while, the very same country is producing around 15 million tonnes of food waste each year. Is it me or is something just not adding up?
But one organisation - known as The Real Junk Food Project - has put two and two together and are single-handedly intercepting this vital food source to feed those who need it most.
The project distributes food in one of two ways: serving up meals at affordable prices in the Pay What You Feel cafe (customers literally pay what they can afford) and providing a food bank service.
Think of them as the modern day Robin Hoods... just without the stealing.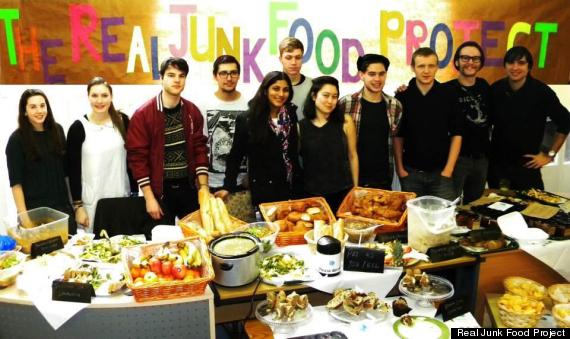 The Real Junk Food Project volunteer team: (l-r) Issie Hatfield, Issy Burkitt, Ben Muñoz, John Penman, Malvika Singh, Sam Adams, Marianna Musset, Sam Joseph, Adam Smith, Adam Wilson, Juan Muñoz
At first glance this may be enough to turn even the strongest stomach, but rest assured, it's not a gross as it sounds.
"We use our common sense when it comes to selecting food," says Sam Joseph, 24, one of The Real Food Project's directors and a environmental science graduate from Leeds University. "Most of the foods we serve are low-risk, otherwise we're very careful."
"Often 'best before' dates are so arbitrary - who says that bang on 11:59pm some food is going to go off? In our eyes, if a vegetable is not mouldy, then it's fine to eat."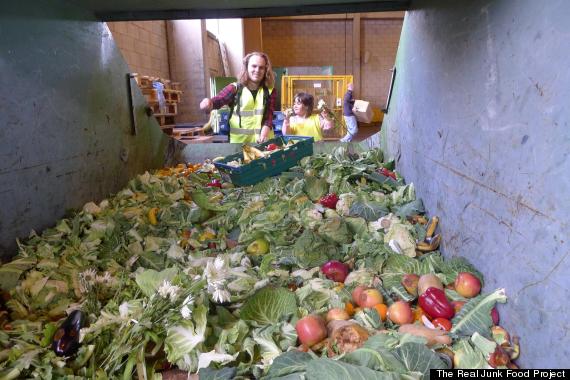 Real Junk Food Project team member Edd Colbert, 22, International politics graduate and Daisy
The project, which was set up by professional chef, Adam Smith, 28, recently passed an inspection from Environmental Health Organisation (EHO), who are happy with the food being used and the organisation's storage methods.
"In the catering industry, many restaurants are operating the same policy - they just don't publicise it," says Sam. "A restaurant is hardly going to throw away a joint of expensive meat - they'll cook it and serve it up."